Clean Your Home Like a Clean Beauty Pro
FREE SHIPPING AND SAMPLES WITH ALL ORDERS
Clean Like a Clean Beauty Pro
How to use 5 all natural products found in your kitchen cupboard to clean your home like a clean beauty pro - with Genna, the baddest and cleanest b*tch we know.
A Clean Home Calms the Mind
Although we are aware of what keeps our minds healthy, including a balanced diet, exercise and socialising, it's very difficult to keep on top of it with the current climate.

One thing which keeps my mind clear and my head happy is keeping a clean home. I'm going to be spending a lot of time in it after all. It's hard not to be disheartened or stressed whilst walking through my local supermarket for anti-bacterial wipes*, hand sanitiser and toilet roll when all I can find are some lemons, vinegar and vodka (totally tempting right now, don't judge). I just need to wait until the customer two metres away from me moves so I can grab it.

*Throw the wipes away for a start. All wipes. Forever. Our poor planet is only just recovering; let's not make it any worse.

Psychologists believe that making your bed every day, for example, gives you a sense of purpose and can increase your self-confidence. Even though I will not be leaving my house (for what may seem like years) I'll still be keeping on top of my skincare routine, applying my make-up, styling my hair and getting dressed properly (if not a little more comfortably) just to feel 'normal'. Children need routine, why are adults any different?

I picked up my lemon, vinegar and vodka, and I look fabulous in my supermarket all dressed and nowhere to go.

Throw the wipes away. Our planet is only just recovering; lets not make it any worse.
No one likes cleaning, or doing anything 'boring' without a time limit and knowing it's going to come to an end. I like to begin running my bath (just after I've cleaned it) as I know it takes one hour to run (I know, very frustrating when I need to relax quickly), or sometimes I start one hour before a TV Show I'm really looking forward to watching. That way, I have a treat at the end, and I know it won't last forever. And it keeps my mind focused and busy.

Things I have in my home to help me clean naturally:

• Lemon
• Baking Soda
• Vinegar
• Salt
• Vodka

Lemon squeezed onto door handles is great for creating shine; squeeze some into a cloth and rub over your surfaces. Be careful with surfaces which might streak.
Lemon is microbial, antibacterial and antiseptic, so it is also great on the toilet. It smells super fresh, too. Cut it in half and use it around all areas and then scrub a little with your toilet brush!
If you have a spare spray bottle, squeeze some lemon into the bottle, add water, maybe even a little bit of baking soda and/or vinegar and use it as an anti-bacterial spray around your home.
This idea of squeezing fruit and mixing it with water can be used as an air-freshener throughout the home. I love this effect with orange! Spray on cushions; voila!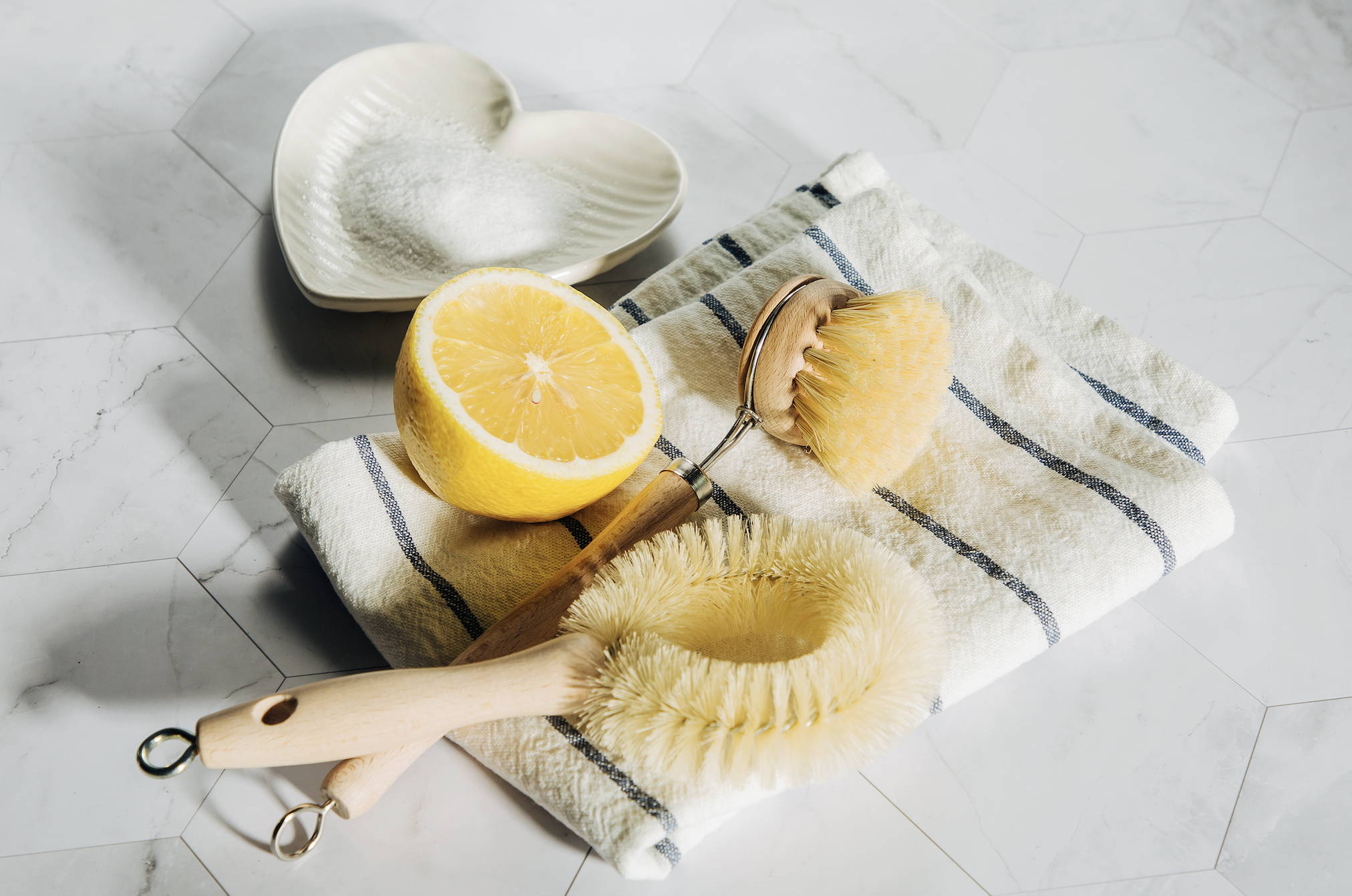 ---
I've released my inner-Mary Berry by thinking I can bake whilst in lockdown. My poor husband. My poor baking trays.
Thankfully, baking soda is great if left on for a few minutes (to my baking trays, not my husband) and then pour over hot water to release the marks! Vegan brownies all round.
Add in a little bit of vinegar for seriously stubborn stains.
---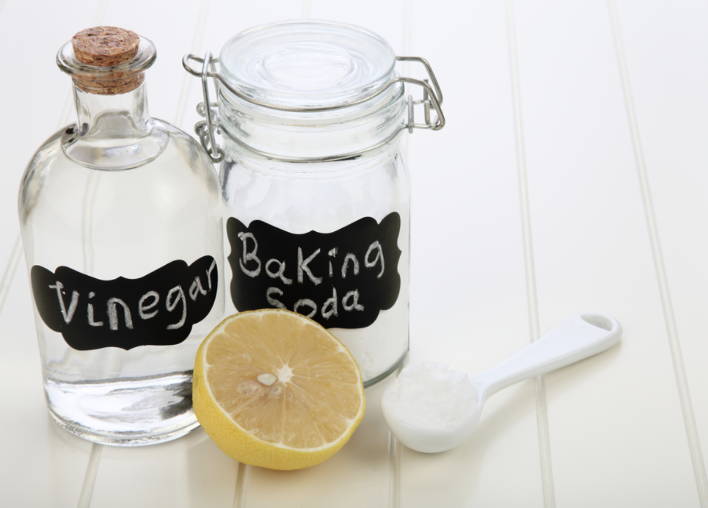 Vinegar is naturally acidic. It cuts through grease and grime easily BUT this means it can damage some surfaces more easily so please be careful. I like to mix is with Baking Soda for tough pots and pans.
It's also great mixed with lemon in my handy spray water bottle as a natural anti-bacterial spray. Warning: it does stink a little. This is where my citrus natural room freshener comes in handy!
Always mix your vinegar with water. It's great for counters, door knobs, floors and tiles.
---
Salt, or sodium chloride is fabulous as a natural cleaner due to how abrasive it is. Again, like vinegar, please use carefully for this reason!
If, like me, you're wearing the same jogging bottoms for five days straight and don't have enough laundry to wash (said no mum ever), just add one cup of salt to wash water to prevent your colours from bleeding in your washing machine. This saves you putting on separate washes for no good reason! Hello jogging bottoms. We meet again.
Carpet needing a scrub? Salt, vinegar and baking soda together will help to lift any stubborn stains. Just let it sit on your carpet for a few hours, buff in and hoover off.
---
Drink it! (just kidding) – Vodka is great for cleaning jewellery. I soak my wedding ring in a little cup of water every six months or so. Don't trust me? Try it with an old penny first!
That's it, you're a pro now! Go and give it a go and tag @thecleanhub!
Genna's journey started almost twenty years ago when she struggled with mental health issues. Regular massages and holistic therapies helped her realise how powerful complementary therapies can be.
Inspired, she went onto University to gain a degree in reflexology and complementary healthcare.
She's since been a beauty therapist, managed spas and wellness centres as well as built spas from the ground up - always keeping the health of the customer in mind. Its safe to say she is a huge advocate of holistic therapies and products!